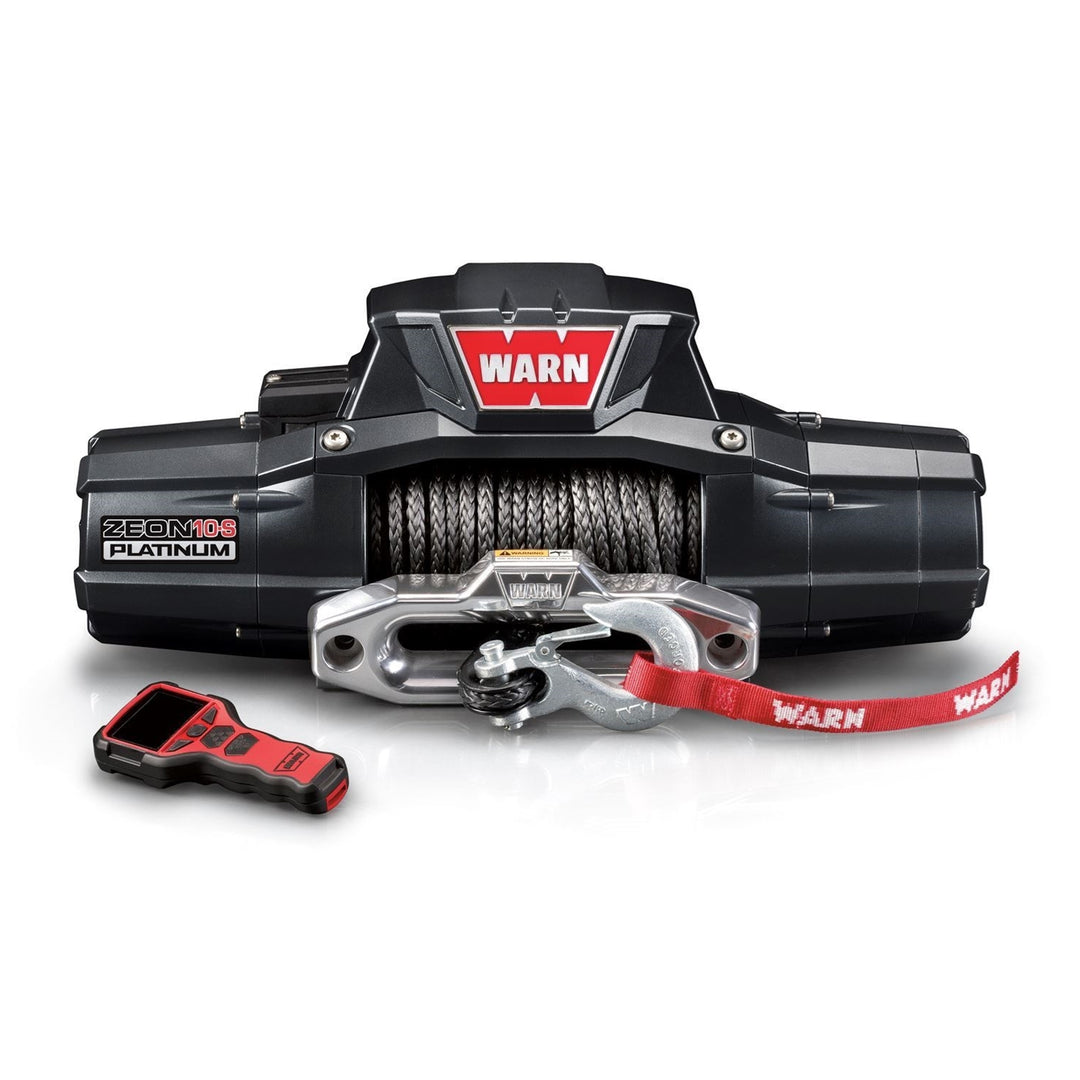 WARN ZEON 10-S Platinum Winch
92815
---
The ZEON 10-S Platinum is built for those who push the limits-with double the durability, 20% faster line speed, and extreme IP68-rated waterproofing. The Advanced Wireless Remote controls not only the winch, but also the clutch and other accessories. With a 10,000 lb. pulling capacity, high-performance motor package, and Spydura® Synthetic Rope, you'll be equipped to go places others only dream about.
Rated line pull of 10,000 lbs. (4536 kg) single-line
Comes with 100' of 3/8" (30m of 9.52mm) Spydura synthetic rope with a matte aluminum hawse fairlead.
Remote Controlled Clutch is engaged and disengaged with the Advanced Wireless Remote. The remote controls winch-in, winch-out, and freespool operations. The manual clutch has been eliminated. No more re-engaging a manual clutch, with frozen fingers while standing in the mud.
The Advanced Wireless Remote gives you total control in the palm of your hand, allowing you to control the winch and up to two accessories. This sophisticated, advanced remote provides operator feedback on vehicle battery charge and winch motor temperature, controls operation of the winch clutch, and more. Includes USB charging cable and car charger adapter.
All-new high-speed motor, stronger gears, and heat-treated ring gear deliver 20% faster line speed, best-in-class efficiency, and our highest durability rating.
Durable aluminum structure with flat black powder-coated finish and stainless steel fasteners delivers durability and maximum corrosion resistance-exceeding 400 hours of salt-spray testing.
Large diameter alloy winch drum with steel sleeve is strong, light weight, reduces rope wear, and has an integrated rope anchor for easy rope installation.
Extreme waterproofing meets rigorous IP68 standards--the highest rating in the WARN Truck/SUV winch lineup.
Automatic mechanical cone brake offers excellent control while winching.
Convertible control pack can be attached to the winch or remotely mounted, allowing for various winch mounting options and looks (Relocation kit required and sold separately). The new-style control pack with contactor and advanced controls gives you extreme reliability and weather resistance.
Limited Lifetime Warranty for Mechanical Components. Limited Seven (7) year warranty for Electrical Components.
TYPE: Electric
MOUNT TYPE: Vehicle Mounted
RECOMMENDED USE: Vehicle Recovery
VOLTAGE: 12 Volt
ELECTRICAL CONTROL TYPE: Contactors
MOTOR TYPE: Series Wound
THERMAL SHUTOFF: No
DRIVE GEAR TYPE: Planetary
GEAR REDUCTION RATIO: 162:1
FREE SPOOLING: Yes
BRAKE TYPE: Mechanical Cone
LINE DIAMETER (IN): 3/8 Inch
LINE LENGTH (FT): 100 Feet
LINE MATERIAL: Synthetic
FAIRLEAD TYPE: Hawse
CONFORMS TO J706 STANDARDS: No
REMOTE TYPE: Wireless
MOUNTING HOLE QUANTITY: 4
OPERATION TYPE: Automatic
MOUNTING PATTERN LENGTH (IN): 10 Inch
MOUNTING PATTERN WIDTH (IN): 4-1/2 Inch
INCLUDES MOUNTING HARDWARE: Yes
COLOR: Black
DRUM MATERIAL: Aluminum
MAX LINE PULL/ LINE SPEED: 10000 Pound/ 5.6 Feet Per Minute
MAX AMP DRAW/ LINE PULL: 465 Amp Draw/ 10000 Pound
Thank you for choosing Beacon Off-Road as your trusted provider of quality products. To ensure a smooth shipping experience, please review our policy outlined below:
Order Processing Time:
In-stock items: We strive to prepare and ship all in-stock items within 2 business days from the date of order placement.
Larger palletized freight orders, such as bumpers: These orders require additional processing and handling time of 3-5 business days.
Shock assembly: Depending on the current workload in our shop, shock assembly may take up to 5-7 business days to complete.
Shipping Confirmation:
Once your order has been shipped, you will receive a shipping confirmation email.
This email will contain relevant tracking information, enabling you to monitor the progress of your shipment and estimate the delivery date.
In-Store Pickup:
For your convenience, we offer in-store pickup for orders.
Orders can be collected daily between 10am and 4pm, during our shop's operating hours.
You will receive an email notification when your order is ready for pickup.
Canada-Wide Shipping:
Shipping costs will be automatically calculated at checkout.
Please note that automated shipping prices may not always be accurate due to the varied size, weight, and shape of the product, as well as the expansive nature of our country.
If you have paid for shipping and our actual shipping cost is significantly lower, we will promptly issue a refund for the difference.
In cases where our website calculates shipping costs too low, we may contact you to discuss alternative options or request additional payment.
If the "pick up in store" option is the only one available for your order, it is likely due to the size and weight of the item(s), which necessitate freight shipping (see Freight Shipping section).
International and USA Shipping:
Regrettably, we do not offer international and USA shipping services at this time.
Our shipping is limited to within Canada only.
Freight Shipping:
For larger freight orders, please contact us for a custom shipping quote.
When reaching out to us, kindly provide your name, phone number, email, and address. Please specify if the address is residential or commercial.
Freight shipments to commercial locations that do not require a liftgate are generally more cost-effective.
We strive to provide accurate shipping information and deliver your orders promptly. However, please note that unforeseen circumstances or external factors may occasionally cause delays in the shipping process. We sincerely appreciate your understanding and patience in such situations.
If you have any further questions or require assistance with your order, please do not hesitate to reach out to us at info@beaconoffroad.ca.