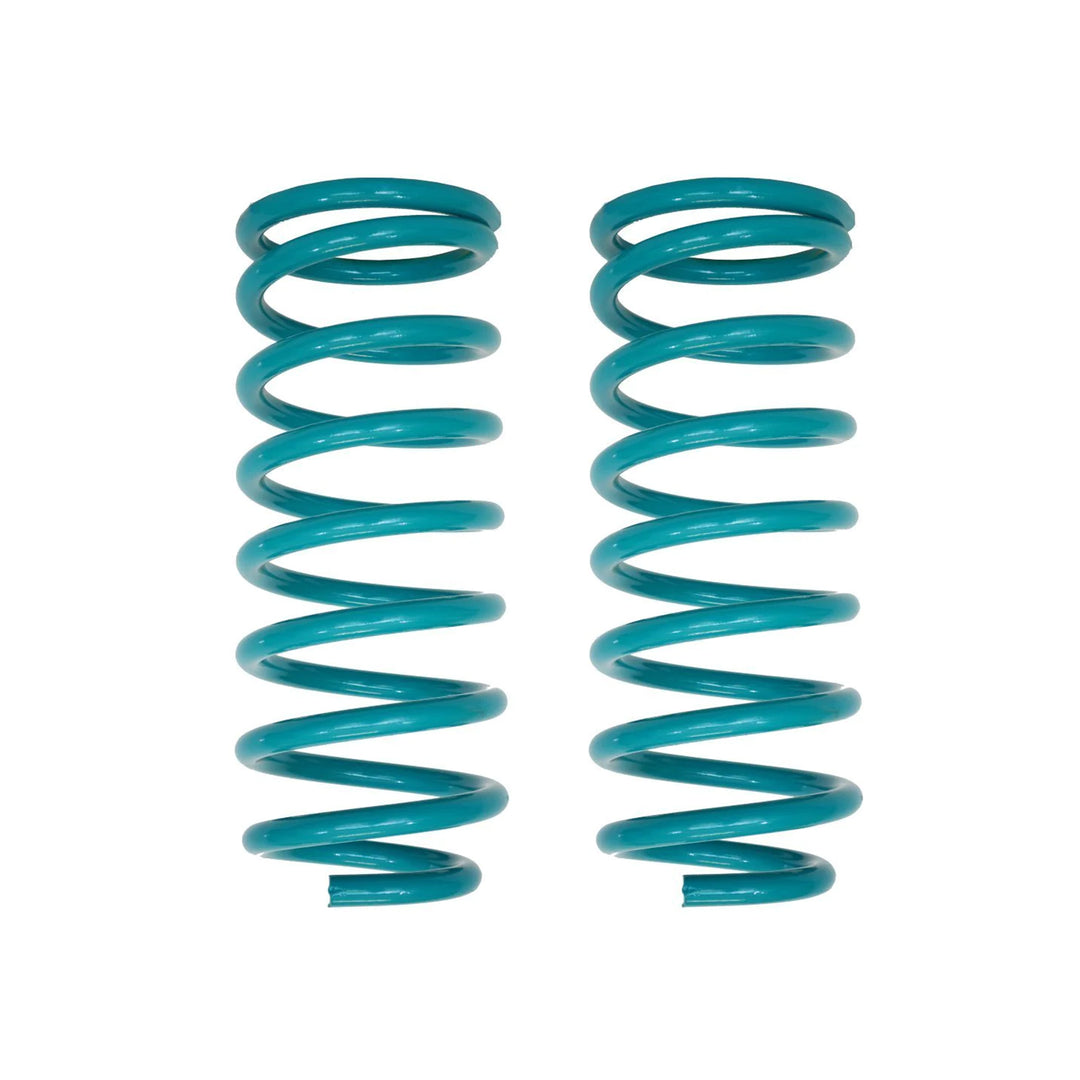 DOBINSONS Rear Coil Springs (C59-599) - Toyota 4Runner, FJ Cruiser
---
Gives this lift and suits these models: 1.25" - Toyota 4Runner 2003 to 2021 stock weight Load (low height lift) 1.75" - Toyota FJ Cruiser 2006-2015 Stock weight Load **Add a 15mm trim spacer to the passenger side coil if using on a vehicle with KDSS. Dobinsons Spring & Suspension™ proudly manufacture the highest quality replacement coil springs for many different applications, complying to ISO9001:2008 international quality standards from their state of the art manufacturing facility in Central Queensland, Australia. Dobinsons™ proudly boast one of the worlds largest range of coil springs, including raised height and heavy duty 4WD springs, lowered performance passenger car springs, O.E. replacement springs and heavy duty springs for commercial vehicles. All Dobinsons™ coil springs are load tested and scragged 100% to eliminate subsequent spring sag, and ensure they meet and maintain the required specifications. We also perform spring fatigue and hardness testing using in-house state of the art testing equipment. Our design engineers utilize the latest coil spring design programs to ensure each spring meets or exceeds the design requirements, to achieve maximum working life. These state-of-the-art design programs are crucial when designing variable/progressive rate springs, ensuring laden and unladen spring rates are correct, providing the best possible ride comfort and handling.
Fully Designed, Manufactured, and Finished In Australia
Ultra modern design technology, Fully Scragged & Load Tested
State of the Art Heat Treatment, High Intensity Shot Peened
Formed on Precision Mandrels, Precise End Configurations
Durable Powder Coat Finish
2003 - 2009 4Runner: 1-1.25" lift no load
2010 - 2022 4Runner: 1.5" lift no load
2006-2015 FJ Cruiser 1.2" no load
Thank you for choosing Beacon Off-Road as your trusted provider of quality products. To ensure a smooth shipping experience, please review our policy outlined below:
Order Processing Time:
In-stock items: We strive to prepare and ship all in-stock items within 2 business days from the date of order placement.
Larger palletized freight orders, such as bumpers: These orders require additional processing and handling time of 3-5 business days.
Shock assembly: Depending on the current workload in our shop, shock assembly may take up to 5-7 business days to complete.
Shipping Confirmation:
Once your order has been shipped, you will receive a shipping confirmation email.
This email will contain relevant tracking information, enabling you to monitor the progress of your shipment and estimate the delivery date.
In-Store Pickup:
For your convenience, we offer in-store pickup for orders.
Orders can be collected daily between 10am and 4pm, during our shop's operating hours.
You will receive an email notification when your order is ready for pickup.
Canada-Wide Shipping:
Shipping costs will be automatically calculated at checkout.
Please note that automated shipping prices may not always be accurate due to the varied size, weight, and shape of the product, as well as the expansive nature of our country.
If you have paid for shipping and our actual shipping cost is significantly lower, we will promptly issue a refund for the difference.
In cases where our website calculates shipping costs too low, we may contact you to discuss alternative options or request additional payment.
If the "pick up in store" option is the only one available for your order, it is likely due to the size and weight of the item(s), which necessitate freight shipping (see Freight Shipping section).
International and USA Shipping:
Regrettably, we do not offer international and USA shipping services at this time.
Our shipping is limited to within Canada only.
Freight Shipping:
For larger freight orders, please contact us for a custom shipping quote.
When reaching out to us, kindly provide your name, phone number, email, and address. Please specify if the address is residential or commercial.
Freight shipments to commercial locations that do not require a liftgate are generally more cost-effective.
We strive to provide accurate shipping information and deliver your orders promptly. However, please note that unforeseen circumstances or external factors may occasionally cause delays in the shipping process. We sincerely appreciate your understanding and patience in such situations.
If you have any further questions or require assistance with your order, please do not hesitate to reach out to us at info@beaconoffroad.ca.