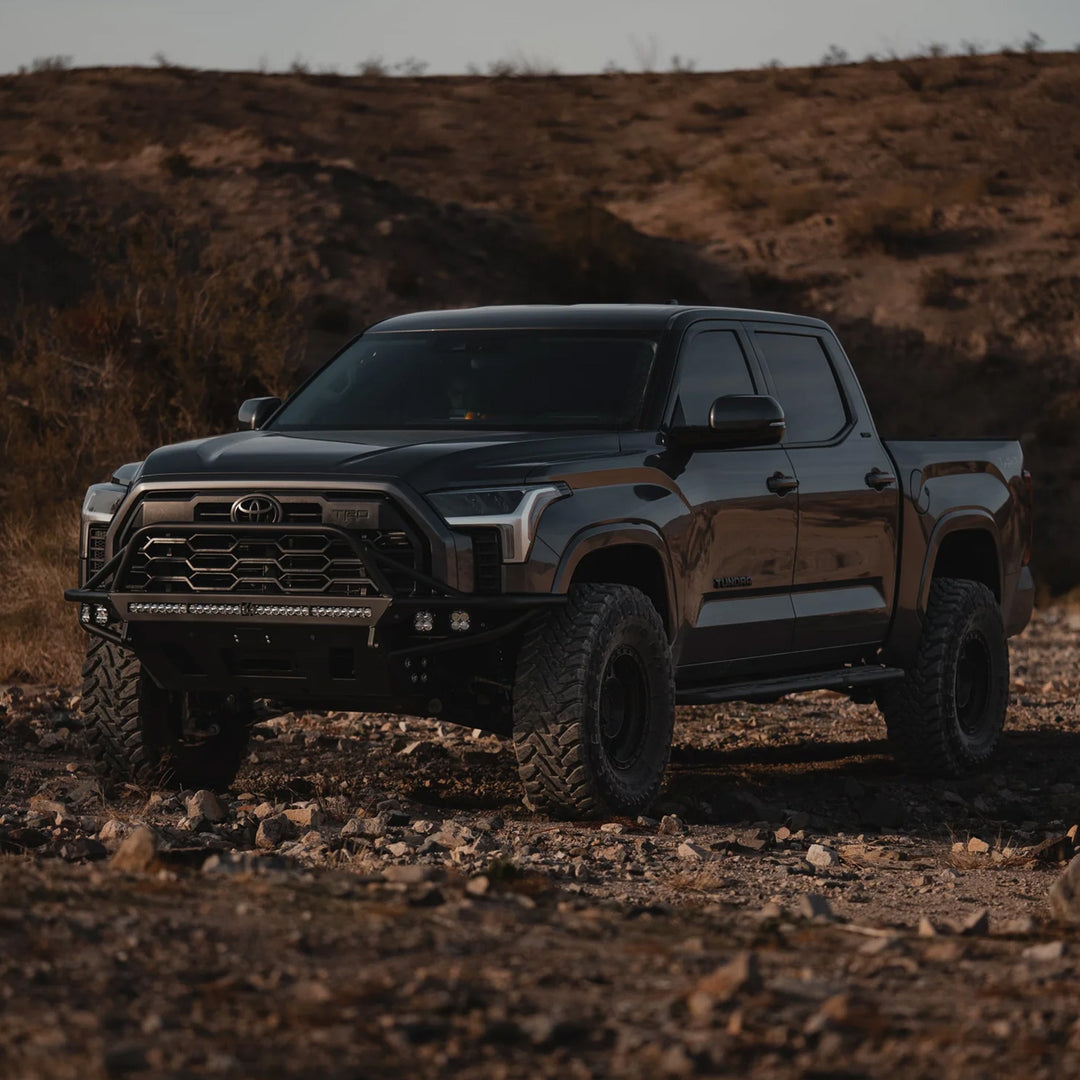 C4 FABRICATION Hybrid Series Front Bumper | 2022+ Toyota Tundra
---
The 2022+ Tundra Overland Front Bumper
RETAINS FULL FUNCTIONALITY OF TOYOTA SAFETY SENSE SYSTEM, park sensors and front mounted camera. (all bull bar options are compatible with TSS). Low-Height bull bar and Mid-Height bull bars will be visible in front mounted camera however, they will not block full view of camera.
Bumper is designed to fit 40″ single row light bars (specifically designed for Baja Designs S8 light bar). Light cutouts are a standard feature and cannot be removed.
Designed to fit two pair of Baja Designs Squadron fog lights, OE fog lights cannot be reused.
Bumper will fit LP9s on all options except the low bar, but will not come pre-drilled
Bumper will require cutting the plastic bumper panels under the headlight on each side and trimming the end of the fender flares to install. (installation video is very detailed and provides step by step instructions)
Bumper has holes to reattach factory fender liners
Comes with front skid plate that replaces the factory plastic skid plate
Bumper is made from 3/16″ laser cut P&O steel with 1/4″ thick mounting plates and 1/4″ thick winch plate.
3/4″ thick D-Ring tabs standard on every bumper and come fully welded front and back.
Bull bar tubing is .120 wall 1 3/4″ and 1 1/2" diameter HREW tubing
Fits most winches 8k-12k in size
Does not fit Smitty XRC 12k winch
We recommend using winches with synthetic rope and a hawse style fairlead for the best fitment and functionality. Some roller fairleads may be too large to fit the recessed fairlead mounting plate in the bumper.
Weighs 160lbs (no bar), 168lbs (low bullbar), 174lbs (mid height w/gussets)
SHIPS BARE STEEL, powder coat finish not available. Product will need to be painted or powder coated before installation to prevent rusting.
 NOTE: All C4 FABRICATION ships bare steel unless otherwise noted. Please contact us for power coat inquiries. 
Thank you for choosing Beacon Off-Road as your trusted provider of quality products. To ensure a smooth shipping experience, please review our policy outlined below:
Order Processing Time:
In-stock items: We strive to prepare and ship all in-stock items within 2 business days from the date of order placement.
Larger palletized freight orders, such as bumpers: These orders require additional processing and handling time of 3-5 business days.
Shock assembly: Depending on the current workload in our shop, shock assembly may take up to 5-7 business days to complete.
Shipping Confirmation:
Once your order has been shipped, you will receive a shipping confirmation email.
This email will contain relevant tracking information, enabling you to monitor the progress of your shipment and estimate the delivery date.
In-Store Pickup:
For your convenience, we offer in-store pickup for orders.
Orders can be collected daily between 10am and 4pm, during our shop's operating hours.
You will receive an email notification when your order is ready for pickup.
Canada-Wide Shipping:
Shipping costs will be automatically calculated at checkout.
Please note that automated shipping prices may not always be accurate due to the varied size, weight, and shape of the product, as well as the expansive nature of our country.
If you have paid for shipping and our actual shipping cost is significantly lower, we will promptly issue a refund for the difference.
In cases where our website calculates shipping costs too low, we may contact you to discuss alternative options or request additional payment.
If the "pick up in store" option is the only one available for your order, it is likely due to the size and weight of the item(s), which necessitate freight shipping (see Freight Shipping section).
International and USA Shipping:
Regrettably, we do not offer international and USA shipping services at this time.
Our shipping is limited to within Canada only.
Freight Shipping:
For larger freight orders, please contact us for a custom shipping quote.
When reaching out to us, kindly provide your name, phone number, email, and address. Please specify if the address is residential or commercial.
Freight shipments to commercial locations that do not require a liftgate are generally more cost-effective.
We strive to provide accurate shipping information and deliver your orders promptly. However, please note that unforeseen circumstances or external factors may occasionally cause delays in the shipping process. We sincerely appreciate your understanding and patience in such situations.
If you have any further questions or require assistance with your order, please do not hesitate to reach out to us at info@beaconoffroad.ca.