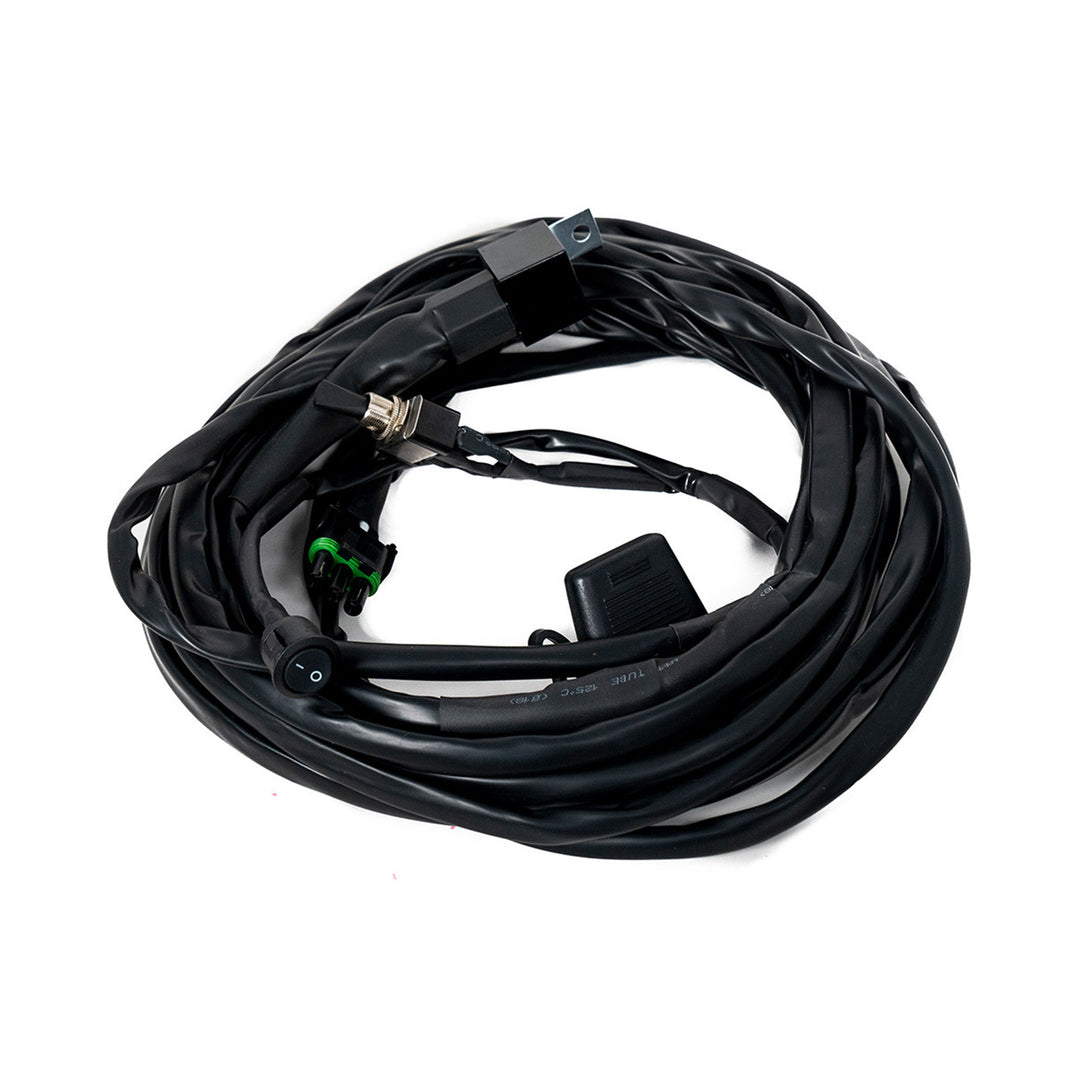 BAJA DESIGNS OnX6/Hybrid/Laser/S8 w/Mode Switch (1 Bar) Wiring Harness - Universal
640122
---
This harness takes all the guess work out of installation and is incredibly high quality suited for race use! Put your dimmer/backlit mode to use!
Includes On/Off Toggle switch for primary light bar function, as well as a separate On/Off switch for secondary (Amber Backlight/ Laser) function
Heavy duty wire gauge that can handle any size bar
Complete with battery ring terminals, relay, sheathing, fuse
100 inch wire length between battery ring terminals and weatherpack for bumper or roof mounting
Application: OnX6/Hybrid/Laser/S8
Description: 1 Bar; Mode Switch
Mounting Hardware Included: No
Product Type: OnX6/Hybrid/Laser/S8 Wiring Harness w/ Mode Switch
Switch Included: Yes
Switch Type: On/Off Switch; Mode Switch
Terminal Connector: Three-Pin Connections
Terminal Type: Splice Connectors
Universal or Specific: Universal
Wiring Harness Description: Heavy-Duty Wire Gauge
Wiring Harness Included: Yes
Wiring Harness Length (in.): 100
Thank you for choosing Beacon Off-Road as your trusted provider of quality products. To ensure a smooth shipping experience, please review our policy outlined below:
Order Processing Time:
In-stock items: We strive to prepare and ship all in-stock items within 2 business days from the date of order placement.
Larger palletized freight orders, such as bumpers: These orders require additional processing and handling time of 3-5 business days.
Shock assembly: Depending on the current workload in our shop, shock assembly may take up to 5-7 business days to complete.
Shipping Confirmation:
Once your order has been shipped, you will receive a shipping confirmation email.
This email will contain relevant tracking information, enabling you to monitor the progress of your shipment and estimate the delivery date.
In-Store Pickup:
For your convenience, we offer in-store pickup for orders.
Orders can be collected daily between 10am and 4pm, during our shop's operating hours.
You will receive an email notification when your order is ready for pickup.
Canada-Wide Shipping:
Shipping costs will be automatically calculated at checkout.
Please note that automated shipping prices may not always be accurate due to the varied size, weight, and shape of the product, as well as the expansive nature of our country.
If you have paid for shipping and our actual shipping cost is significantly lower, we will promptly issue a refund for the difference.
In cases where our website calculates shipping costs too low, we may contact you to discuss alternative options or request additional payment.
If the "pick up in store" option is the only one available for your order, it is likely due to the size and weight of the item(s), which necessitate freight shipping (see Freight Shipping section).
International and USA Shipping:
Regrettably, we do not offer international and USA shipping services at this time.
Our shipping is limited to within Canada only.
Freight Shipping:
For larger freight orders, please contact us for a custom shipping quote.
When reaching out to us, kindly provide your name, phone number, email, and address. Please specify if the address is residential or commercial.
Freight shipments to commercial locations that do not require a liftgate are generally more cost-effective.
We strive to provide accurate shipping information and deliver your orders promptly. However, please note that unforeseen circumstances or external factors may occasionally cause delays in the shipping process. We sincerely appreciate your understanding and patience in such situations.
If you have any further questions or require assistance with your order, please do not hesitate to reach out to us at info@beaconoffroad.ca.